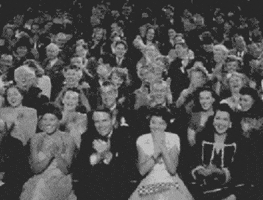 Much like yesterday, I had the pleasure of MCing a fun 25th birthday party for Notes and Domino here at IBM ConnectED. There have been others like
Ed Brill's blog
, a
developerWorks post,
and even the
Lotus Museaum Online
, who have documented that past 25 years much better than I could, So it felt right to take a more humorous trip down memory lane and a look towards the next 25 years.
Enjoy!
*****
Welcome all to our Notes and Domino 25th anniversary party. Happy birthday to us!
I'm your host for today, Jacques Pavlenyi, Marketing Programs Director for Enterprise Social Solutions.
First of all, a big thank you to Alison Fesler and Beth McElroy for pulling together this wonderful celebration!
I joined this team almost 7 years ago, but there are folks with us today who've been around almost since the beginning who deserve so much credit for the staying power of this amazing product.
People like Jan Kenney, Dwight Morse, Ed Brill, Pete Janzen, and many more.
We also have newer folks like Kramer Reeves, Carol Sormilic, and others.
And a huge thank you and hello to our faithful, partners like John Head, customers like Jon Rollins, Champions past and present, industry analysts like Alan Lepofsky, and even Mat Neuman who traded in his trademark yellow for Big Blue.
But now it's time to put my Best Man hat on, drink one too many champagnes, and embarrass our dear friends with a little pop music infused trip down memory lane.
Remember 1989? While I was just finishing college, the top pop song was Chicago's "Look Away", and out of Ray Ozzie's garage debuted Notes, wearing yellow scrunchies and pastel yellow polos with turned up collars. Scott was one of those early cheerleaders, and back then he could pull off those polos.
In 1993, Ed Brill and Dwight Morse joined the team supporting the R3 Notes server. Yes, Notes Server, before there was even a Domino. They were the Kevin Costner to Lotus' Whitney Houston in that year's big song, "I Will Always Love You".
Oddly enough, in 1994 there seems to have been no Lotusphere, making for the world record longest Lotusphere hangover. Hey, 1993 called, they want Whitney Houston and Kevin Costner back. But leave the cookie.
In 1995, Jan Kenney started as a Release manager, with her running down the hall at the 11th hour yelling 'stop the presses' at the top of her lungs to correct one last must-bug fix, forcing the team to burn new CDs and pack them in suitcases for folks to carry to Lotusphere. Her earlier stint as Joan Cusack's understudy in "Network News" certainly helped
In 1996, R4 came out with a whole new look, but sadly, like everyone else, was also doing the Macarena.
In 1998, R4.5 came and we unleashed the Work the Web tv spots with Dennis Leary upon the world. And yes, we're still apologizing.
In 1999, Cher was topping the charts with "Believe", and so did we with a big R5 launch. We shouted "I Am" in loud TV ads and loud t-shirts (I see Jan is wearing one now) Working for Lotus was not just a job, it was a wardrobe.
Skipping ahead to 2007, Beyonce suddenly became "Irreplacable", and once again so did we, with a huge
R8 that brought in Eclipse, Connections integration and Lotus Symphony.
In 2011, Adele was "Rolling in the Deep" while we rolled out the long-awaited Notes 8.5 that started shifting the conversation towards a more social workplace.
In 2012, Gotye sang "Somebody that I used to know", and sadly (but thankfully not nearly as dramatically as the song) the irrepressible Ed Brill decided it was time for a change. Clearly he hasn't gone too far <point>. Kramer Reeves decided to fill some big Chicago shoes, joining the team to become the new face of Notes and Domino to the world.
In 2013, Macklemore may have been rapping the praises of his local "Thrift Shop", but Scott Souder finally ditched the worn yellow polo for a bluer Notes 9 Social Edition, taking social and mail integration, as well as his travel budget and wardrobe, to new levels.
In 2014, Pharrell Williams was way too "Happy", and suddenly so were we, with a renewed energy and visibility with IBM Verse, bridging Domino and Connections in a completely unexpected way.
So as we welcome in 2015, it's been an amazing ride, and the next chapter is just beginning. So here's to our highs, learning from our lows, changing our wardrobe, and most importantly, to the next 25 years!